Proverbial Wisdom from Australia
Sayings of Australian origin
The clash of ideas brings forth the spark of truth.
Blood is thicker than water.
One man's meat is another man's poison.
Australia – land of tomorrow.
Once bitten, twice shy.
Half a loaf is better than none.
In the planting season visitors come singly, and in harvest time they come in crowds.
Dog must not steal from dog.
A bird in the hand is worth two in the bush.
If you catch a man, throw him back!
About Australia (An excerpt from Wikipedia)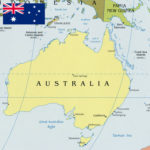 Australia, officially the Commonwealth of Australia, is an Oceanian country comprising the mainland of the Australian continent, the island of Tasmania, and numerous smaller islands. It is the world's sixth-largest country by total area. Neighbouring countries include Papua New Guinea, Indonesia and East Timor to the north; the Solomon Islands and Vanuatu to the north-east; and New Zealand to the south-east.
For at least 40,000 years before the first British settlement in the late 18th century,Australia was inhabited by indigenous Australians, who spoke languages grouped into roughly 250 language groups.
Although Australia has no official language, English has always been entrenched as the de facto national language. Australian English is a major variety of the language with a distinctive accent and lexicon, and differs slightly from other varieties of English in grammar and spelling.
Canberra is the capital city of Australia. With a population of 381,488, it is Australia's largest inland city and the eighth-largest city overall. The city is located at the northern end of the Australian Capital Territory (ACT), 280 km (170 mi) south-west of Sydney, and 660 km (410 mi) north-east of Melbourne. A resident of Canberra is known as a "Canberran".
More Australian Proverbs & Sayings:
The bigger the hat, the smaller the property.
This land shall be inhabited.
You might as well be hanged for a sheep as for a lamb.
The flounder does not return to the place he left when disturbed.
Those who lose dreaming are lost.
A bad worker blames his tools.
Don't count your chickens before they're hatched.
God helps those who help themselves.
None as deaf as those who would not hear.
The more you know, the less you need.
Women! Australia needs you too!
One nation, one people, one destiny.
Don't blow your own trumpet.
It's like the axe that's had two new blades and three new handles but otherwise is just as it was when grandfather bought it .
We are all visitors to this time, this place. We are just passing through. Our purpose here is to observe, to learn, to grow, to love… and then we return home.
May as well be here we are as where we are.
Out in the bush, the tarred road always ends just after the house of the local mayor.
"Advance Australia Fair" is the national anthem of Australia.
Australian National Anthem Lyrics:
Australians all let us rejoice,
For we are young and free;
We've golden soil and wealth for toil;
Our home is girt by sea;
Our land abounds in nature's gifts
Of beauty rich and rare;
In history's page, let every stage
Advance Australia Fair.
In joyful strains then let us sing,
Advance Australia Fair.
Beneath our radiant Southern Cross
We'll toil with hearts and hands;
To make this Commonwealth of ours
Renowned of all the lands;
For those who've come across the seas
We've boundless plains to share;
With courage let us all combine
To Advance Australia Fair.
In joyful strains then let us sing,
Advance Australia Fair.