Sayings of Fijian origin
The white flower has bloomed; it is time to sleep outside.
Listen to the wisdom of the toothless ones.
Life is like this: sometimes sun, sometimes rain.
Idleness is to be dead in the limbs but alive within.
Each bay, its own wind.
Don't do today what you probably can leave undone tomorrow as well.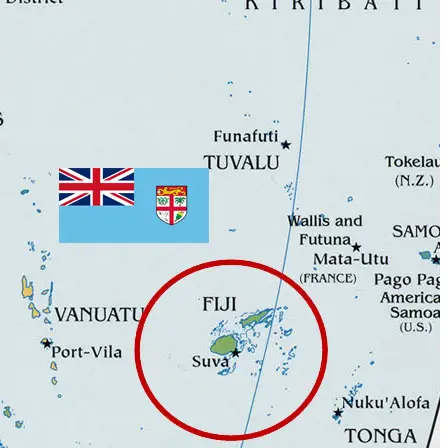 Fiji, officially the Republic of Fiji, is an island country in Melanesia in the South Pacific Ocean about 1,100 nautical miles (2,000 km; 1,300 mi) northeast of New Zealand's North Island. Its closest neighbours are Vanuatu to the west, New Caledonia to the southwest, New Zealand's Kermadec Islands to the southeast, Tonga to the east, the Samoas and France's Wallis and Futuna to the northeast, and Tuvalu to the north.
Fiji is an archipelago of more than 332 islands, of which 110 are permanently inhabited, and more than 500 islets, amounting to a total land area of about 18,300 square kilometres (7,100 sq mi). The farthest island is Onu-i-Lau. The two major islands, Viti Levu and Vanua Levu, account for 87% of the population of almost 860,000. The capital and largest city, Suva, is on Viti Levu. About three-quarters of Fijians live on Viti Levu's coasts, either in Suva or in smaller urban centres like Nadi (tourism) or Lautoka (sugar cane industry). Viti Levu's interior is sparsely inhabited due to its terrain. More on Fiji at Wikipedia
Fijian is an Austronesian language of the Malayo-Polynesian family spoken in Fiji. It has 350,000 first-language speakers, which is less than half the population of Fiji, but another 200,000 speak it as a second language. The 1997 Constitution established Fijian as an official language of Fiji, along with English and Fiji Hindi, and there has been discussion about establishing it as the "national language", though English and Hindustani would remain official. Fijian is a VOS language.
Suva is the capital and the second most populated municipality of Fiji, after Nasinu. It is on the southeast coast of the island of Viti Levu, in the Rewa Province, Central Division.
God Bless Fiji "Meda Dau Doka" is the national anthem of Fiji. (Video)
The Lyrics:
Blessing grant oh God of nations on the isles of Fiji
As we stand united under noble banner blue
And we honour and defend the cause of freedom ever
Onward march together
God bless Fiji
For Fiji, ever Fiji, let our voices ring with pride
For Fiji, ever Fiji, her name hail far and wide,
A land of freedom, hope and glory, to endure what ever befall
May God bless Fiji
Forever more!
Blessing grant, oh God of nations, on the isles of Fiji
Shores of golden sand and sunshine, happiness and song
Stand united, we of Fiji, fame and glory ever
Onward march together
God bless Fiji.