Sayings of Guyanese origin
Not all of a scholar's knowledge comes from what he learned from his teacher.
When the ear does not hear the eye will see better.
When Mumma dead family done.
After laugh come cry.
The devil tempts but doesn't force.
You can't suck the cane and blow a whistle .
You tel tara and tara tell tara.
When the mighty fall on hard times, they are disrespected by all.
Don't try to force your foot into every stocking.
Every story has two sides.
Never shop for black cloth at nighttime.
One, one dutty build dam .
A good thief is the best guardian.
Good and evil often come from the same source.
You can't chew bone with gum.
Not all who go to church go there to pray.
People may look alike, but all act differently.
When your neighbor's house is on fire, throw water upon your own.
The Co-operative Republic of Guyana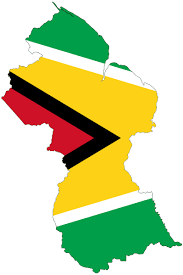 Guyana is a sovereign state on the northern mainland of South America. It is, however, included in the Caribbean Region due to its strong cultural, historical, and political ties with other Anglo Caribbean countries and the Caribbean Community (CARICOM). Guyana is bordered by the Atlantic Ocean to the north, Brazil to the south and southwest, Suriname to the east and Venezuela to the west. With 215,000 square kilometres (83,000 sq mi), Guyana is the fourth-smallest country on mainland South America after Uruguay, Suriname and French Guiana.(An Excerpt from Wikipedia)
Guyana is the only South American nation in which English is the official language. The majority of the population, however, speak Guyanese Creole, an English-based creole language, as a first language.
Georgetown is the capital of Guyana, located in Region 4, which is also known as the Demerara-Mahaica region. It is the country's largest urban centre. It is situated on the Atlantic Ocean coast at the mouth of the Demerara River and it was nicknamed 'Garden City of the Caribbean.
The national anthem of Guyana.
Dear Land of Guyana, of Rivers and Plains is the national anthem of Guyana.
English Lyrics:
Dear land of Guyana, of rivers and plains
Made rich by the sunshine, and lush by the rains,
Set gem-like and fair, between mountains and seas,
Your children salute you, dear land of the free.
Green land of Guyana, our heroes of yore,
Both bondsmen and free, laid their bones on your shore.
This soil so they hallowed, and from them are we,
All sons of one Mother, Guyana the free.
Great land of Guyana, diverse though our strains,
We're born of their sacrifice, heirs of their pains,
And ours is the glory their eyes did not see,
One land of six peoples, united and free.
Dear land of Guyana, to you will we give,
Our homage, our service, each day that we live;
God guard you, great Mother, and make us to be
More worthy our heritage, land of the free.