Vermont Proverbs & sayings
To the European, a Yankee is an American.
Might as well be hanged for an old sheep as for a lamb.
Money is flat and meant to be piled.
Talk less and say more.
To a Vermonter, a Yankee is someone who eats apple pie for breakfast.
And to a Vermonter who eats apple pie for breakfast.
The world is your cow. But you have to do the milking.
The hardest work is to do nothing.
It's a good thing for a liar to have a good memory.
A slip of the tongue, no fault of the mind.
To an American, a Yankee is a New Englander.
You can't keep trouble from coming, but you don't have to give it a chair to sit on.
An ounce of experience is worth a pound of theory.
It won't be warm till the snow gets off the mountain, and the snow won't get off the mountain till it gets warm.
Hain't scarcely nuthin' in the world so powerful as perversity if ye knows how to harness it.
Take off your flannels before the first of May, and you'll have a doctor's bill to pay.
The worst of law is that one suit breeds twenty.
An old maid don't know nuthin' but what she imagines.
One today is worth two tomorrows.
Every man thinks his own geese swans.
A deaf husband and a blind wife are always a happy couple.
He who feels the benefit should feel the burden.
You have summer and winter together in Vermont before you really know each other.
Cut your sail according to your cloth.
In New England we have nine months of winter and three months of darned poor sledding.
To a New Englander, a Yankee is a Vermonter.
The quickest way to do many things is to do one thing at a time.
Take care of the minutes and the hours will take care of themselves.
We have two seasons: winter and the Fourth of July.
Don't talk unless you can improve the silence.
Suppers kill more than the doctors can cure.
Better be ready and not go than go and not be ready.
Small circumstances produce great events.
Thick and blue, tried and true. Thin or crispy, way too risky.
You can't always tell by the looks of a toad how far he can jump.
Wishing isn't doing.
A good word now is worth ten on a headstone.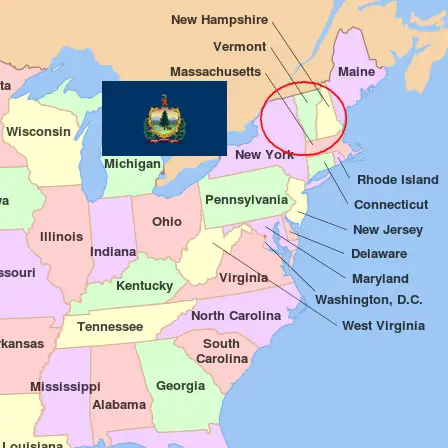 Vermont is a New England state in the northeastern region of the United States. It borders the other U.S. states of Massachusetts to the south, New Hampshire to the east, New York to the west, and the Canadian province of Quebec to the north. Lake Champlain forms half of Vermont's western border with the state of New York and the Green Mountains run north–south the length of the state.
Vermont is the second least populous of the U.S. states, with roughly 40,000 more residents than Wyoming. Vermont was ranked the safest state in the country in January 2016.
Montpelier /is the capital city of the US state of Vermont and the county seat of Washington County. As the site of Vermont's state government, it is the least populous state capital in the United States. The population was 7,855 at the 2010 census. However, the daytime population swells to about 21,000, due to the large number of jobs within city limits. The Vermont College of Fine Arts and New England Culinary Institute are located in the municipality. It was named for Montpellier, France. (An excerpt from Wikipedia)